Frequently Asked Questions – Auto & Truck Rental
Do I have to have a Credit Card to rent a vehicle?
Yes, a minimum deposit of $300 on a major credit card in the renter's name is required. However, under certain conditions a debit card may be used for the rental transaction if the renter has full collision and comprehensive coverage that is transferable.  Please contact us for more information.
May I use someone else's Credit Card to rent a vehicle?
Unfortunately no, the renter must present a credit card in their name.
How old do I have to be to rent a vehicle?
The minimum age to rent and drive is 21 years of age. For drivers 21 to 24 years of age there is a $10.00 charge per day.
May others drive the vehicle I rent?
Only persons who have been added to the rental agreement may drive the rental vehicle.  Each person must meet our qualifications and is subject to additional fees.  NOTE: Additional drivers may not be covered by your insurance policy or credit card protection.  We recommend you check with your providers prior to adding drivers.
Will you pick me up?
Yes!  We offer free local pick up in the Amherst area. Our customer care team will coordinate picking you up and bringing you to our facility.  Please call at least 30 minutes ahead to allow adequate notice.  We can offer rides from 8:30am to 3:30pm Monday to Friday.
What happens if I'm involved in an accident in the rental?
Your safety and the safety of your passengers is the first consideration. Take care of you and your passengers first, and at the first opportunity call us. Please be sure to exchange all information with any other parties using our Rental Agreement and the state-issued registration in the glove compartment.  If available, get a copy of the Police Crash Exchange Form, and a copy of the police report when it is created. Our Customer Care Team is available in emergencies 24 hours a day. Call 413-549-7368, (800-698-7368) and leave a message on extension 31 and we will respond within a half hour.
Do I need to purchase your coverages?
You are not required to purchase any of our optional coverages. We strongly encourage you to check with your personal insurance agent and credit card provider to determine what coverages you might want to purchase prior to your rental.  Please be sure to account for any expected additional drivers, especially when they are not on your insurance policy, and trips outside of the U.S. Please note: vehicles larger than 7-passengers, or of a certain weight may not be covered under your auto insurance policy, specifically our larger passenger vans, cargo vans, and box trucks.  Please be sure to check with your providers in advance if you are renting this type of vehicle.
Are there any restrictions on where I can go with the rental?
Our vehicles are restricted to the Northeast & Mid-Atlantic corridors. If you are travelling outside of those areas, we may still be able to assist you.  Call or email today and we will be happy to help!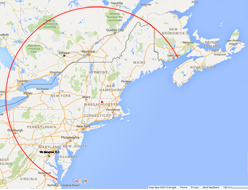 Click the map for more information.
Can my friend rent for me?
As long as the renter qualifies, including having a major credit card and valid U.S. license, we are happy to rent to them.  With you as an additional driver, there may be coverage issues.  Please have the renter check with their insurance and credit card providers to confirm how adding you as a driver may affect coverage. Additional drivers are subject to additional fees.  Please contact us if you have any questions and we will be happy to help!
Can I rent to take my license test?
No.  We are only able to rent to licensed drivers.
I would like to rent a specific car. Can you do that?
Although we are happy to give you a choice of vehicle upon arrival, we cannot guarantee specific models, colors or options in advance due to availability. If you are concerned, you may call us prior to your arrival to let us know your preference and we will try and accommodate you.
I want to pick up when you're not open, can I do that?
Unfortunately, all renters are required to come 
in person
to sign the rental agreement and have their credit card swiped for the deposit.  You are welcome to rent the vehicle and leave it on premises to pick up at a later time, however.
Can I use my E-ZPass with your rentals?
Yes.  According to
E-ZPass
, your transponder should easily transfer to the rental car on 
in-state
trips.  If you plan to use the transponder out-of-state, it is important to 
call to add our rental to your account
.  This can be done on a temporary basis, but it is your responsibility to make sure that it is removed.
Please note:
E-ZPass
has confirmed that you cannot add our rental to your account via their website due to our rentals being associated with our account.  You must 
call to add
to make sure the rental is properly registered.  Please be sure to note their hours, and plan accordingly.
What about Tolls if I don't have an E-ZPass?
All of our rental cars are associated with our E-ZPass account.  If you do not have your own transponder, we will bill you for your toll as it is billed to us, and add a $0.60 per toll processing fee. If you have the option to pay cash, you may do so, or you may use the E-ZPass lane and pay the processing fee, plus the discounted toll. All "Mail-in Tolls" are subject to additional fees if not processed through E-ZPass.