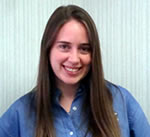 Brigitte Richards
Customer Care Representative
 413-549-2880 ext. 21
 Email Brigitte
Brigitte has worked with North Amherst Motors for over 18 years.  She moved from Rental into our Collision Customer Care and has also worked with Mechanical Customer Service.
She enjoys party planning and crafts in her spare time.
Josh McCusker
Rental Customer Service
 413-549-2880 ext. 15
  Email Josh
Joining us in 2011, Josh brings over a decade of customer service skills, as well as computer, graphic design, and marketing.  Josh also put together this website, (and loves to talk about himself in 3rd-person.)
Bryon Fuller
Colby Canon
Repair Planner
 413-549-2880 ext. 13
  Email Colby
Colby is a graduate of Easthampton High School where he studied welding in metal shop.  He continued on to the Baron Institute of Technology where he studied auto body and auto refinishing as well as custom paint and metal fabrication.
Colby plays basketball and makes his own custom metal and stone tables in his free time.
If you are not finding who you are looking for, or have a general inquiry, please use the form below: