"I was framed I tell ya! Framed!"
It is not every day that we have to do such an extensive repair, but recently a customer was rear-ended and the frame was damaged beyond repair.  It is in times like these that our mechanic's abilities is important, which is why we make sure they have certifications.
Step One – Frame Inspection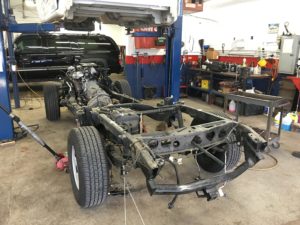 The first step is to find out the damage.  Our certified collision technicians use our frame machine to decide the structural integrity of the frame itself.  If it does not pass, it is time to order a new one.
Once the new frame arrives on the giant tractor-trailer, we unload it using special equipment, and place it in the bay with the old frame.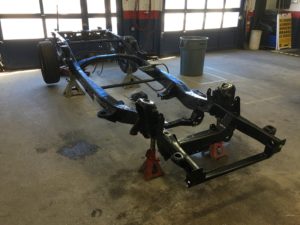 After inspecting the new frame, and dismounting of the rest of the body of the vehicle take place.  For ease, we place the new frame in the same bay as the old one, making the transfer of parts faster.
Step Two – Mechanic Transfers to New Frame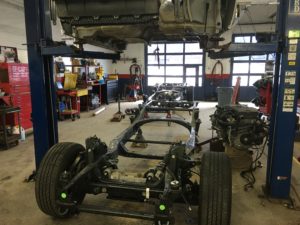 Once the new frame is in place, and we disconnect the body, our mechanic begins the process of transferring the parts to the new frame.  This process is time-consuming, and intense, and our expert mechanic takes the time required to make sure it is perfect.
Each part, wire, line, and tank needs is carefully removed and reattached on the new
frame.  Once that is complete, the engine is finally removed and held until it is ready to place in its new home.
It takes a while, but the result is an almost new vehicle that is not only safe, but guaranteed to last.
Step Three – Our Mechanic Makes a lot of Noise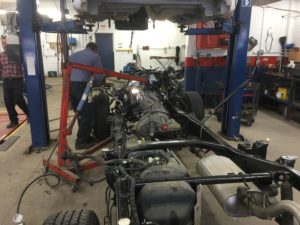 Now is the difficult part.  If you have ever taken apart any complicated item, you know that it is always interesting trying to put it back together.  Thankfully, our trained and certified technicians know just what to do, where to find the map, and how to follow it.
It doesn't stop them from making a bit of noise as they do it!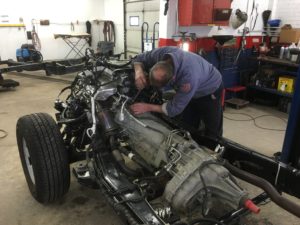 As the engine is finally mounted, and our mechanic takes the time to piece it all together, hook everything back up, and test it.
Once satisfied that everything is in place, and all the pieces are in, and tested all the components and their functions, it's time to move to the last process!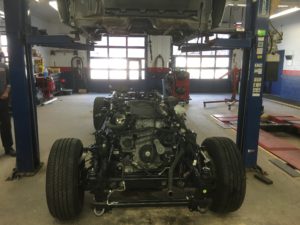 Finishing Up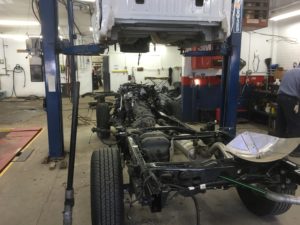 Now it's time to lower the frame back home!  Then we can send it back into the shop to have the bed reattached and on to delivery!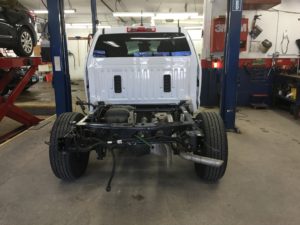 That was fun!